1 – Where Do I Start?
Click the UTIA News icon in UTIA Custom Blocks.
2 – Set Options for UTIA News
Using the options in the right sidebar, set options for this block.
To get the link for "View More News":
Go to UTIA News site.
In upper right-hand corner, under NEWS BY ENTITY, click on the arrow to the right of Select a Site.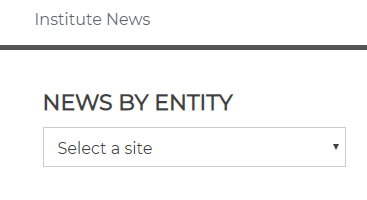 Scroll down to desired department and click on department name.
Copy the URL of the department news page.
Paste the link in the News Link text box, at bottom of the right sidebar.
Update the page and ensure that the link works by clicking on View More News at the bottom of the News Widget.

3 – Finished Product